The Value of Lock Repair
03/31/2014
Back To Blog
Smart people may be fooled sometimes but prudent people will hardly get caught in the net of criminal actions. Lock replacement is certainly the best way to reinforce the security of your home since having good bolts installed at any entry point is basic mathematics for preventive security measures. If you're smart, you'll also install additional systems and cameras but if you are prudent as well you will never miss inspecting the locks periodically. Having the locks replaced is not the solution to every single problem, which may arise. In some cases, having some problematic parts of the lock repaired should be sufficient.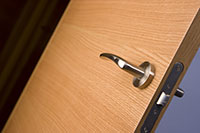 Check and repair both locks and keys
The prudency is to inspect locks and keys often and decide about their needs. Some problems, like a broken lock mechanism, are not repairable and require lock change. Though, this is not the only problem that will prevent you from locking the doors.
The latch may have flipped down
The strike plate might be loose
The lock might need lubrication
The latch bolt may not extend fully
The latch is not properly aligned with the hole of the strike plate
The door knob might be loose
The cylinder is loose and turns altogether
Such problems will require lock repair. The ultimate goal is to ensure that the doors secure properly. Consequently, the bolt must extend and enter fully the throat of the strike plate, which must be perfectly secured at the doorjamb. The door should lock with a single rotation of the key and without putting force at all. It presupposes that the key will enter the lock and turn smoothly, too. In any other case, you will either need lock or key repair.
Repairing the locks on time will save you money from having to replace them in the near future and will certainly secure your property. It will protect you from getting locked out of the house or being unable to lock the door when you are ready to go to bed. It will ensure your house is properly locked and narrow down the problems regarding your security.